For Water

Main Uses
Removing oxygen and carbon dioxide from ultrapure water
Removing oxygen from water in boiler piping
Manufacturing functional water for cleaning (dissolving CO2 gas, H2 gas, N2 gas, and O2 gas)
※Please use eFLOW for Aerating CO2 gas.
Defoaming processing of the water for ultrasonic washing machines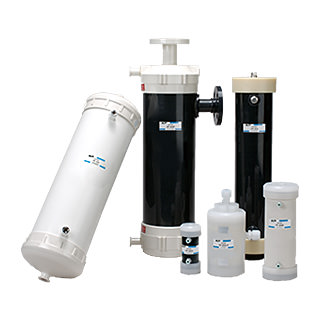 PF Series
Internal Flow System
Fluid directed through inside of hollow fiber
【Features】
Washable by making liquid flow backwards
Model
Supported
Flow Rate
Dimensions
Pressure
Resistance
Operating
Temp.
Connection
(Liquid)
Connection
(Vacuum)
PF-001D
0.6~60L/h
60mmφ×140mmL
(2.4inφ×5.5in)
0.3MPa
(3bar, 43.5psi)
5~40℃
(41~104°F)
Rc1/4
NPT1/4
φ6 tube
PF-004D
3~180L/h
99mmφ×260mmL
(3.9inφ×10.4in)
Rc3/8
φ6 tube
PF-015PP
50~500L/h
140mmφ×530mmL
(5.5inφ×20.9in)
Rp1/2
Rp1/2
PF-030
100~1,000L/h
165mmφ×620mmL
(6.5inφ×24.4in)
ISO 15A ferrule

φ10 tube
EF Series
(Small)
External Flow System(Small)
Fluid directed outside of hollow fiber
【Features】
Low pressure loss
High-level degassing model
Model
Flow Rate
(Vacuum degree 2.7kPa)
Dimensions
Pressure
Resistance
Operating
Temp.
Connection
(Liquid)
Connection
(Vacuum)
Degassing Rate 80%
Degassing Rate 50%
EF-AG1SX
6mL/min
40mL/min
68mm×φ24mm
(2.68in×0.94in)
0.2MPa
(2bar, 29psi)
5~45℃
(41~113°F)
Lure fitting
Lure fitting
EF-MICRO
9mL/min
60mL/min
91mm×φ23.5mm
(3.58in×φ0.93in)
Lure fitting
Lure fitting
EF-G2
50mL/min
170mL/min
115mm×φ30mm
(4.53in×φ1.18in)
Rc1/8
NPT1/8 female
Rc1/8
NPT1/8 female
EF-AG2
50mL/min
170mL/min
122mm×φ29mm
(4.80in×φ1.14in)
Lure fitting
Lure fitting
EF-G3
500mL/min
1,200mL/min
141mm×φ45mm
(5.55in×φ1.77in)
Rc1/8
NPT1/8 female
Rc1/8
NPT1/8 female
EF-AG3
500mL/min
1,200mL/min
159mm×φ42mm
(6.25in×φ1.65in)
Rc1/8
NPT1/8 female
Rc1/8
NPT1/8 female
EF-G4
1,000mL/min
2,000mL/min
141mm×φ60mm
(5.55in×φ2.36in)
Rc1/4
NPT1/4 female
Rc1/4
NPT1/4 female
EF-AG5
1,000mL/min
2,000mL/min
151mm×φ54mm
(5.94in×φ2.1in)
Rc1/4
NPT1/4 female
Rc1/4
NPT1/4 female
EF Series
External Flow System
Fluid directed outside of hollow fiber
【Features】
Low pressure loss
High-level degassing model
Model
Supported Flow Rate
Dimensions
Pressure Resistance
Operating Temp.
Connection
(Liquid)
Connection
(Vacuum)
EF-002A
6~720L/h
(0.03~3US gpm)
109mmφ×182mmL
(4.29inφ×7.17in)
0.3MPa
(3bar, 43.5psi)
5~40℃
(41~104°F)
Rc3/8
NPT3/8 female
Rp1/4
EF-010
100~4,000L/h
(0.4~20US gpm)
170mmφ×430.0mmL
(6.7inφ×16.9in)
0.5MPa
(5bar, 72.5psi)
Rc1
NPT1 female
Rc1/2
NPT1/2 female
EF-020
300~7,000L/h
(1~30US gpm)
170mmφ×680.0mmL
(6.7inφ×26.8in)
Rc1
NPT1 female
Rc1/2
NPT1/2 female
EF-040P
500~11,000L/h
(2~50US gpm)
180mmφ×673mmL
(7.1inφ×26.5in)
5~40℃(41~104°F):
0.6MPa(6bar, 87.0psi)
40~50℃(104~122°F):
0.4MPa(4bar, 58.0psi)
5~50℃
(41~122°F)
JIS25A flange
ANSI 1inch
15A ferrule
EF-120
5,000~50,000L/h
(20~220US gpm)
315mmφ×876mmL
(12.4inφ×34.5in)
5℃<water temp≦25℃
0.8MPa(8bar, 116psi)
25℃<water temp≦40℃
0.6MPa(6bar, 87psi)
40℃<water temp≦50℃
0.5MPa(5bar, 73psi)
JIS80A flange
ANSI class 150
Flange 3inch
JIS25A flange
ANSI class 150
Flange 1inch
For CO2 removal
Model
Supported Flow Rate
Dimensions
Pressure Resistance
Operating Temp.
Connection
(Liquid)
Connection
(Vacuum)
EF-010-Q
100~4,000L/h
(0.4~20US gpm)
170mmφ×430.0mmL
(6.7inφ×16.9in)
0.5MPa
(5bar, 72.5psi)
5~40℃
(41~104°F)
Rc1
NPT1 female
Rc1/2
NPT1/2 female
EF-020-Q
300~7,000L/h
(1~30US gpm)
170mmφ×680.0mmL
(6.7inφ×26.8in)
Rc1
NPT1 female
Rc1/2
NPT1/2 female
EF-040P-Q
500~11,000L/h
(2~50US gpm)
180mmφ×673mmL
(7.1inφ×26.5in)
2~40℃:0.6MPa
40~50℃:0.4MPa
5~50℃
(41~122°F)
JIS25A flange
ANSI 1inch
15A ferrule
About Connection:

It is possible to change a joint for a pillar, flange, etc. However, there are limitations for some products. Please inquire about specific products.

About Flow Rate:

They are just guidelines. Depending on liquid type and targeted degassing levels, you can use them beyond the guidelines.

About Dimensions:

Projected parts and connections are excluded. For details, please refer to product drawings.